"Approximately 40 per cent of all waste that goes to Regina's landfill comes from businesses, institutions, industry and workplaces — not homes."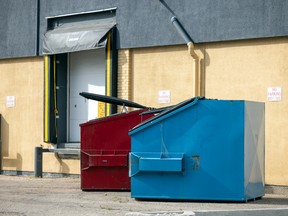 Article content
The city is looking for feedback on proposed regulations for businesses, industry and public institutions in Regina that it hopes will help significantly reduce the amount of waste going to the landfill.
Article content
"Approximately 40 per cent of all waste that goes to Regina's landfill comes from businesses, institutions, industry and workplaces — not homes," said a news release from the City of Regina.
Article content
The regulations would target industrial, commercial and institutional (ICI) waste, but require the sector to dispose of waste in separate streams — food and yard waste, recyclables and garbage.
An estimated 42 per cent of ICI waste can be diverted through recycling or composting, according to the city.
To help refine the proposed new regulations, the city is asking residents to provide feedback by visiting Beheard.regina.ca/ici, reviewing the draft regulations and submitting comments by Sept. 30.
Green Routine program expanding to more City of Regina facilities

City of Regina seeks innovative vendor to build organic waste processing facility
The draft regulations have been developed based on an evaluation of best practices across Canada, as well as a preliminary round of consultations with business, schools, hospitals and other public institutions, said the release. The approach is similar to existing regulations of multi-family residential waste diversion, like apartments and townhouses, that don't get city collection and processing.
Article content
Feedback can be provided in the form of a Q&A in which residents can publicly post questions on the BeHeard site and have them answered by the city after reviewing the regulations. A handful of questions have already been asked an answered, including one from a small business owner concerned about limited space for more bins and wondering if the city has consulted with waste or recycling companies.
"The City consulted waste haulers and waste processors about the regulations. Waste haulers have the ability to work with you to determine waste collection needs. There are a number of waste haulers that can offer a variety of bin sizes and  different collection frequencies," the city replied.
Another resident who does all of their own recycling and garbage disposal asked why these regulations should concern him, especially considering his "taxes have not gone down."
Article content
In response, the city noted that recycling for residential properties is funded through a user paid system, and assured him if he doesn't get the service, he is not paying for it.
"Garbage however, is tax funded," the response continued. "There is a report going to Council regarding residential waste services funding in October. This report looks at funding options for residential waste services with a recommendation to remove the waste service from taxes and fund all residential waste services through a user fee."
Businesses, institutions and commercial enterprises provide their own waste services, the city noted. If a business already does its own recycling, the regulation changes would simply require an owner to also collect organic material, like food and yard waste. The rationale, the response noted, is to extend the life of the landfill and provide consistency across all sectors when it comes to waste management. A new landfill is projected to cost between $50-100 million.
Article content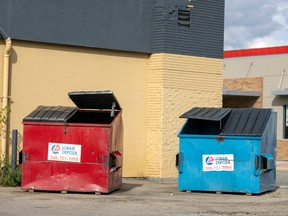 If approved by council, the regulations would come into effect Jan. 1, 2024. Any organization within city limits would be required to have a "multi-stream waste collection and processing program" that sorts and collects recyclables, food and yard waste, and garbage separately in line with requirements for residential services; ensure adequate containers are available for recyclables and food and yard waste materials; ensure bins are emptied as necessary and taken to the appropriate facility; and provide information to new and existing employees about the program.
When asked by a resident what the ICI buy-in has been so far, the city referred to the feedback outlined in the draft regulations. Under a "We Listened" section, the city notes that the ICI sector, including waste collectors and processors, would be interested in incentives. The city is exploring the "potential and types of incentives" that could be offered, information that is being gathering and will be provided to council to help inform its decision.
The news seems to be flying at us faster all the time. From COVID-19 updates to politics and crime and everything in between, it can be hard to keep up. With that in mind, the Regina Leader-Post has created an Afternoon Headlines newsletter that can be delivered daily to your inbox to help make sure you are up to date with the most vital news of the day. Click here to subscribe.
https://leaderpost.com/news/local-news/city-of-regina-poised-to-regulate-waste-for-businesses-industry-and-public-institutions